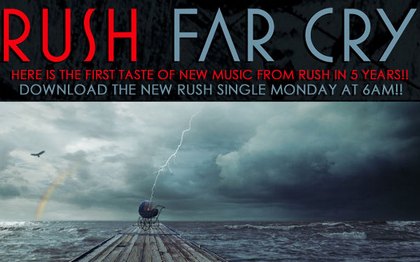 New Rush
!
Rush's new single, Far Cry, was released to the internet today. Here's my .02.
Likes:
Many hits and punches!
Tasty riff!
Even at 192kbps, sounds like a good mix!
Neil Peart! And his Signature Ride Cymbal Pattern!

Great guitar tones!
Odd time signatures!
Lots of layers, especially in Alex's playing!
Hemispheres Chord!!
Dislikes:
Geddy's flamenco bass playing. Never been a big fan of that. He started it on the Counterparts CD, though, if you watch the Limelight video from '81, you can see him doing it there.
Geddy's "smooth" voice. In most of the Rush releases since, say the mid '80s, Geddy sings and no longer goes balls out. I understand his voice has mellowed with time, but sometimes I just wish he'd go for it.
Harmony vocals and vocal layers. Is it me or does Rush just do weird vocal harmonies?
No guitar solo. I got tired of Vapor Trails and its lack of soloing. So far, with Far Cry, there is no solo. I'm guessing there will be on the other tracks.
Length of tune. Can there be a thing as too much Rush? Sometimes. Again, see Vapor Trails, a record they produced themselves. In other words, each song on VT was about 2 verses too long as the boys couldn't find a good place to end them. Having a producer for this new record should help the tunes tremendously.
Overall? I think I really like this song Far Cry. It's strong, has attitude and some bad, bad playing by my favorite Canadians. If the rest of Snakes & Arrows can be as strong as this lead track, we could be in for the best Rush record since Counterparts!
May 1 can't come soon enough!